Post-Approval Named Patient Program Definition
There are many definitions for programs that support unlicensed medicines access, including Compassionate Use Program, Early Access Program, Expanded Access Program, Post-Approval Named Patient Program (PA-NPP) and Managed Access Program.
At WEP, we simplify unlicensed medicine supply access into two types of programs, defined by the development and registration phase of the medicine. As you can see from the diagram below, once a manufacturer has secured the first regulatory approval for an innovative medicine, it can then supply this medicine to patients and physicians in countries where it is not yet approved, through a post-approval program, which we refer to as a PA-NPP: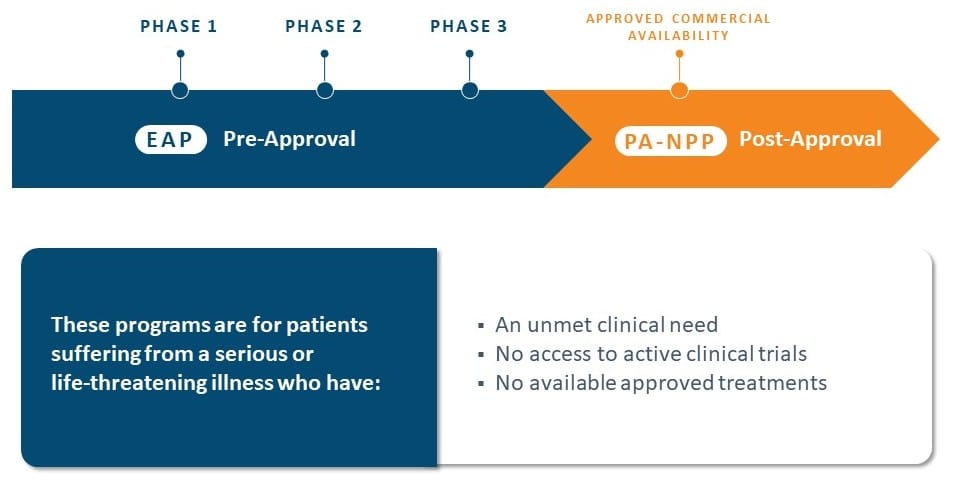 Post-Approval Named Patient Program Requirements
The essential requirements of a PA-NPP are listed below. WEP Clinical provides an end-to-end service and handles these requirements on behalf of the sponsor. 
Commercial pack supply and an agreed price.

WEP Clinical provides product in a PA-NPP on a paid-for basis but the product can be provided free of charge if that is important to the client.

Regulatory approval to import the medicine and treat an individual patient.

WEP Clinical has worked on 200 programs and supplied 90 countries worldwide. We understand the regulatory pathways and requirements for post-approval named patient supply

A safety management plan to ensure physicians are aware of their adverse event reporting responsibilities and know how to report them
A robust and reliable global warehousing and distribution network experienced in importing unlicensed medicine, ensuring GDP quality standards are maintained
A dedicated Project Manager for your product who will support physicians with the complex regulatory, logistics and reimbursement challenges to secure access
Post-Approval Named Patient Program Uptake
PA-NPPs adhere to strict legislation regarding the supply of unlicensed medicines on an unsolicited request basis. As such, there are many factors that determine the level of uptake in a PA-NPP. These include whether the PA-NPP product is being provided at the commercial price or supplied free of charge. It can also differ by disease area and level of unmet need.
WEP Clinical has managed programs across a range of different conditions in the rare disease and oncology space, some of which provided the drug for free, others of which supplied product on a paid for basis.
Understanding the potential volume uptake in a PA-NPP can be useful for companies considering running this kind of post-approval access program.
If you would like some insight into what the volume uptake in a PA-NPP would look like by country, please submit your details in the form below. A free resource will then be sent to your inbox detailing product uptake across a number of different access scenarios.
PA-NPP volume uptake by country
Please provide your details in the fields below. A member of our PA-NPP team will then reach out with the free resource.