your trusted partner for clinical trial sourcing
Through our Clinical Trial Sourcing services, WEP Clinical supports biopharmaceutical research and development efforts on a global scale. WEP Clinical excels in procuring and delivering a wide range of pharmaceuticals, ancillary clinical supplies and active pharmaceutical ingredients for clinical trial and drug development programs.

REFERENCE LISTED DRUGS (RLD)
A RLD is the novel drug used to compare against when developing generic equivalents to branded products. Often the RLD is the first approved or the industry treatment norm and is used to set a baseline of treatment efficacy.
COMPARATOR DRUGS
Comparator Drugs are approved medications that are utilized in a clinical trial to compare the efficacy of an investigational drug to the efficacy of a standard of care treatment. A comparator can be used instead of a placebo or in conjunction with a placebo.
FACILITIES IN THE US & UK with global reach
With warehouse facilities in the United States (North Carolina) and the United Kingdom (London), WEP Clinical can rapidly move product to and from the US, Canada, European Union, South America and Asia.

Access to non-US product offers our customers the option to source product locally for ex-US sites.

A vast supplier and partner network across the globe means that WEP Clinical can source a wide range of products at the most cost-effective price, in the timeliest manner and with the least number of potential roadblocks.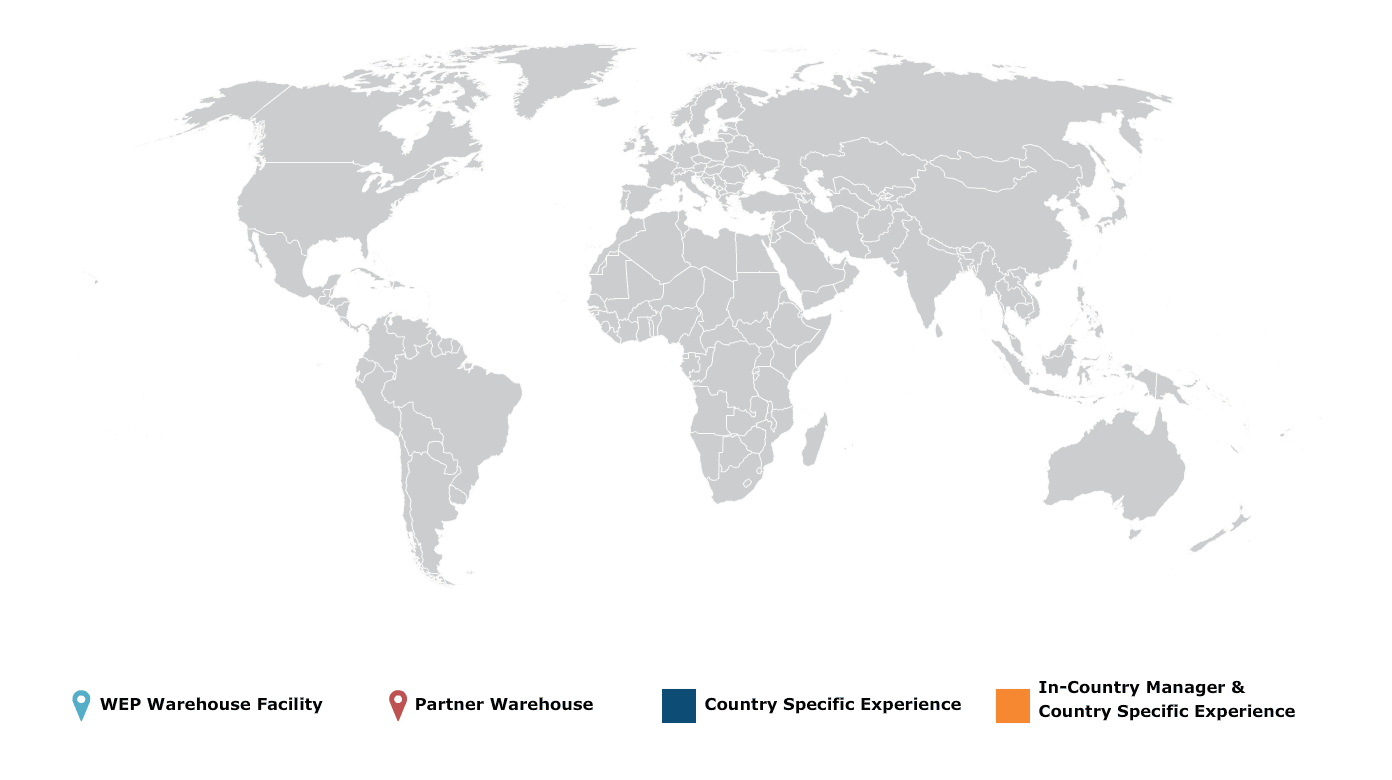 PARTNERSHIPS WITH LEADING LOGISTICS & COURIER PROVIDERS
With our clinical trial sourcing services and warehousing facilities located in the US, UK, and EU, WEP Clinical has partnered with the top logistics & courier providers to facilitate the safe transportation of pharmaceutical products.
The movement of pharmaceutical products is complex, especially when crossing international borders. Our logistics and courier partners help us ensure safe and expedient arrival of products from our facilities to yours.

WEP Clinical can coordinate the shipping of product under controlled room temp, refrigerated and frozen conditions using temp-controlled boxes and/or dedicated temp-controlled vehicles.

These partnerships allow us to provide greater product control and visibility, resulting in reduced risk of product diversion, damage or temperature deviation.
support services
Relationships with packaging and labeling, CMOs, CROs, data collection, IRT, logistics and other support services allows WEP Clinical to offer a one stop solution for your clinical trial sourcing needs.
100% of Product sourced from Manufacturers and approved Distributors
Whether it's for clinical trial use, drug development or purity testing, knowing that you are receiving legitimate/authentic product is crucial.
WEP Clinical Quality Delivery
From the beginning of the procurement process all the way through to final delivery of product to our customers, WEP Clinical follows a robust set of global SOPs, as well as industry guidelines, that ensure all processes are conducted with the highest level of quality.