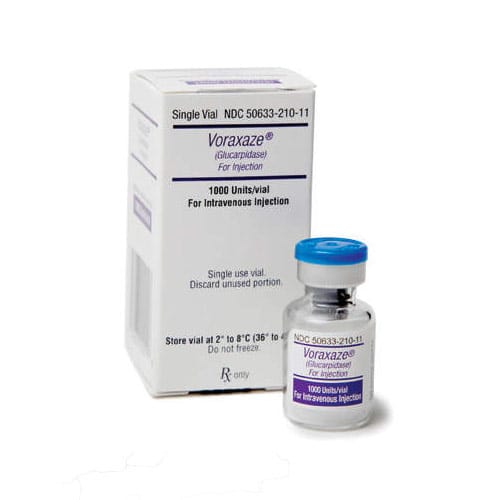 Sales & Distribution: EEA
Conditions Treated: Toxic plasma methotrexate concentrations in patients with delayed methotrexate clearance due to impaired renal function.
Manufacturer: BTG International Inc.
Voraxaze is made available in Europe through a Named Patient Program, enabling HCPs to access this medicine for patients who have an unmet clinical need.
If Voraxaze is required on an urgent need basis, you must contact our 24/7 emergency ordering line, using the number below:
Phone: 0044 207 887 2235
If you would like to order Voraxaze for replenishment or general restocking purposes, you can do this by contacting the dedicated WEP Mailbox, using the email below:
Email: VORAXAZE@WEPCLINICAL.COM
VORAXAZE
What is Voraxaze?
Voraxaze® is a carboxypeptidase which is the first and only drug approved to reduce toxic plasma methotrexate levels. Voraxaze breaks down methotrexate into inactive metabolites which are then eliminated from the body by routes other than the kidney (primarily the liver). It is provided as a powder to be made into a solution for injection and contains the active substance glucarpidase.
What is Voraxaze approved for?
Voraxaze is indicated to reduce toxic plasma methotrexate concentration (greater than 1 micromole per liter) in adult and pediatric patients with delayed methotrexate clearance (plasma methotrexate concentrations greater than 2 standard deviations of the mean methotrexate excretion curve specific for the dose of methotrexate administered) due to impaired renal function.
What is Methotrexate?
Methotrexate is an antifolate therapeutic agent that possesses potent anticancer activity against both solid tumors and leukemia. High dose methotrexate (HDMTX) chemotherapy is used to treat or prevent the recurrence of certain cancers, including osteosarcoma, and certain leukemias, and lymphomas. For patients with normal renal function, HDMTX may be safely administered with appropriate supportive care. However, some patients treated with HDMTX develop impaired kidney function, which leads to the accumulation of toxic levels of methotrexate in the blood resulting in clinical manifestations of toxicity.
Marketing Authorizations
Voraxaze was approved by the FDA in January 2012, after the agency determined that the product exhibits a favorable benefit:risk profile.