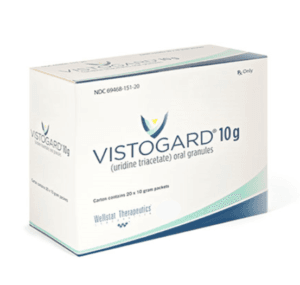 Sales & Distribution: EU Countries, Iceland, Liechtenstein, Norway & Australia
Conditions Treated: Overdose or early onset, severe, or life-threatening toxicities from 5-fluorouracil (5-FU) or capecitabine
Manufacturer: Wellstat Therapeutics Corporation
Vistogard is made available in the EU and Australia through a Named Patient Program, enabling HCPs to access this medicine for patients who have an unmet clinical need.
If you would like to order Vistogard, please contact us using the 24/7/365 Emergency contact details below:
Email: VISTOGARD@WEPCLINICAL.COM
Phone: 0044 207 887 2235
VISTOGARD
What is Vistogard?
Vistogard is an orally administered pyrimidine analog which is the first and only antidote approved to treat 5-FU or capecitabine toxicity. This medicine may be given before overdose symptoms appear. However, treatment with Vistogard must begin within 96 hours after you last received capecitabine or fluorouracil.
What is Vistogard approved for?
Vistogard is indicated for the emergency treatment of adult and pediatric patients:
following a fluorouracil or capecitabine overdose regardless of the presence of symptoms, or
who exhibit early-onset, severe or life- threatening toxicity affecting the cardiac or central nervous system, and/or earlyonset, unusually severe adverse reactions (e.g., gastrointestinal toxicity and/or neutropenia) within 96 hours following the end of fluorouracil or capecitabine administration
What is 5-Fluorouracil (5-FU)?
5-FU is a chemotherapy medication which has been used for decades in combination with other chemotherapy agents and/or radiation to treat various solid tumors, including those of the colon, pancreas, stomach, esophagus, breast, and head and neck. The drug is most commonly administered by infusion pump at or near what is considered the maximum tolerated dose. Overexposure to 5-FU can lead to severe myelosuppression, gastrointestinal hemorrhage, septic shock, multiple organ failure, cardiac and neurological complications, and death. Because 5-FU is administered in different doses and schedules, patients can experience dramatically different patterns of toxicity.
What is Capecitabine?
Capecitabine, sold under the brand name Xeloda among others, is a chemotherapy medication used to treat breast cancer, gastric cancer and colorectal cancer. The drug comes as a tablet and is administered orally. The amount of capecitabine administered varies depending many factors, including height and weight, general health or other health problems, and the type of cancer or condition being treated. Like with 5-FU, patients can experience dramatically different patterns of toxicity.
Marketing Authorizations
Vistogard was granted marketing authorization by the FDA in December 2017, after the agency determined that the product exhibits a favorable benefit:risk profile.