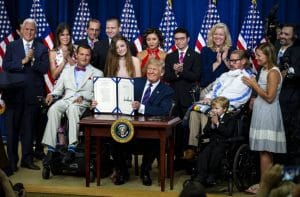 On Wednesday of this week, President Donald Trump signed the national Right to Try bill into law. The Senate version of the bill was cleared by the House earlier this month, after much debate and deliberation. Once it takes effect, the law promises to improve treatment access for patients across the US who cannot wait for promising, new medicines to come to market.
The President was joined on Wednesday by Health and Human Services Secretary, Alex Azar, the Food and Drug Administration Commissioner, Scott Gottlieb, and many of the bill's strongest supporters in Congress, including Sens. Ron Johnson, R-Wis., and Joe Donnelly, D-Ind. Rare and debilitating disease patients and their families were also present.
President Trump supported the bill from the outset and said he had never understood why Congress hadn't acted on the issue sooner. Speaking to the audience at the signing, the President claimed that the new law offers "fundamental freedom" and will help save "thousands and thousands of lives". "There were no options," Trump said, "But now you have hope — you really have hope,"
However, there are some within industry who would disagree with these statements made by the President. Those opposed to Right to Try claim that there has been a mechanism in place for decades allowing patients access to investigational drugs outside of the clinical trial setting. The FDA Expanded Access framework helps seriously sick patients access much needed drugs before they are officially approved and commercially available. Although the framework could be improved upon, the FDA looks favorably on expanded access and says it already approves over 99% of the expanded access requests that it receives.
The new Right to Try law will theoretically allow patients to access investigational drugs outside of the expanded access framework by giving patients the right to use a medicine without any FDA oversight or approval. However, drug manufacturers are unlikely to provide their pre-approval products to patients without a green light from the FDA, and there is nothing in the new law which requires them to do so. As such, it remains to be seen how effective this law will actually be at improving access to treatments. Similar state-level laws have been in effect for years in many state across the country, and to date there is no real evidence to suggest that they have successfully helped patients.