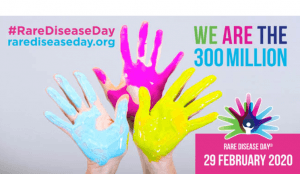 Rare Disease Day 2020 will be held this week, on Saturday the 29th of February. Occurring every year on the last day of February, this day is celebrated to help raise awareness of rare diseases and the impact that they have on patients' lives. In countries all around the world, patients, their support networks and advocacy originations will be holding events and organizing activities to help spread the word about their disease or condition.
Rare Disease Day was first launched 12 years ago by EURORDIS and its Council of National Alliances. EURORDIS is a non-governmental, umbrella organization representing 894 rare disease patient groups in 72 countries. The day started as a European campaign, but it has since become a world-wide phenomenon. In 2019, there was participation in over 100 countries, in all regions of the world.
Each country, and each group, has its own strategies for raising awareness and creating broader engagement. Some hold conferences, put on sponsored runs or walks, provide luncheons, create videos or pieces of art, etc. Others use celebrities or influential individuals or rally around a famous landmark or monument in order to promote their message.
Whatever the strategy used, these groups are all hoping to target the general public as well as policy makers, public authorities, industry representatives, researchers, health professionals and anyone who has a genuine interest in rare diseases.
This awareness building is so important because, although each rare disease on it's on has a small patient population, all together, there are over 300 million patients living with a rare disease around the world. That means that 1 in 20 people will suffer from a rare disease at some point in their life. As the majority of these diseases have no cure, and many go undiagnosed, there is still much that needs to be done to tackle these under-served conditions.
To find out more, you can visit rarediseaseday.org where there is information on the thousands of events happening around the world this Saturday. You can also access and download a range of campaign materials, including a Rare Disease Day information pack, logo and factsheet.