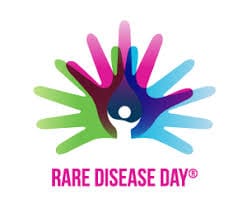 Today is Rare Disease Day 2018. Celebrated on the last day of February every year, Rare Disease Day aims to raise awareness about rare diseases and their impact on patients' lives around the world.
A disease is defined as rare in Europe when it affects fewer than 1 in 2000 people, and is defined as rare in the US when it affects fewer than 200,000 people. With almost 7,000 known rare diseases, it is important for the general public and government bodies and decision-makers to have an understanding of what living with a rare disease entails.
A lack of scientific knowledge and quality information on rare diseases often results in either a delay in diagnosis or a misdiagnosis. Once a disease is correctly identified, heavy social and financial burdens, as well as diversity in symptoms among patients, can create difficulties in accessing effective treatments. The rarity of these conditions also makes it difficult to ensure that experts and researchers are well connected to enable patients to benefit from pooled resources across borders.
Rare Disease Day was launched by EURORDIS in 2008 to give rare disease patients a platform to come together and educate the wider population on these issues. It started as a European initiative, but has since become a worldwide phenomenon, with 94 countries participating in some capacity in 2017.
The events on, and leading up to, this day are organized primarily by patient advocacy organizations. Groups operating on a regional, national, or international scale are all encouraged to get involved, resulting in a huge deal of media coverage.
Events this year will include television and radio awareness campaigns in Algeria, a Rare Disease March in Austria, educational seminars for doctors, directors and nurses in hospitals across Peru, a story sharing slam about what it's like to work with rare diseases in Sweden, a sponsored 7-mile run in India, and an all-inclusive online music campaign in the US.
To find out more about events being held in your country, visit the Rare Disease Day website.