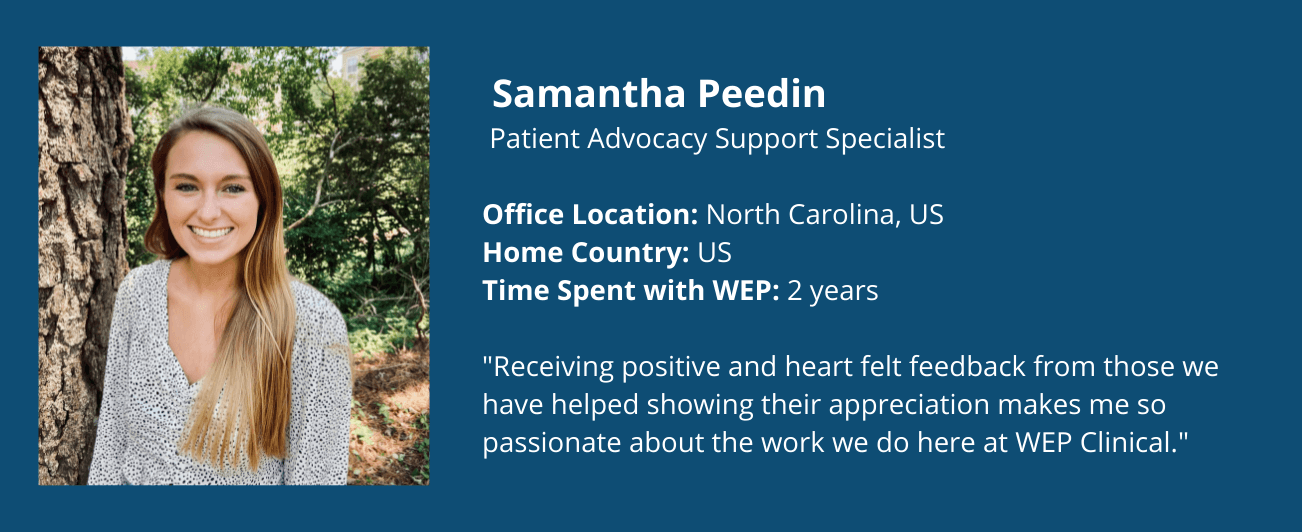 Introduction
My name is Samantha Peedin and I am the Patient Advocacy Support Specialist. I am originally from Raleigh, North Carolina and I graduated from East Carolina University with my Bachelor of Social Work degree. I joined the WEP Clinical team in December of 2019 in hopes to improve the quality of lives for patients within various communities.
What Does My Role At WEP Clinical Involve?
Each and every day I have the opportunity to connect with patients, their families, and physicians from all around the world. Patients who suffer from a rare or life-threatening illness reach out to us in hopes of accessing treatment options that may not be available in their home country. We can reach out to pharma companies on a patient's behalf and can provide support for a patient's physician when trying to gain access to a much-needed drug. From the initial request up until the delivery of the product, I work diligently to work to meet the needs of the patient. It is important to be understanding, empathetic, and have open communication. In addition to working directly with patients and physicians, I also work to partner with various patient advocacy groups in an effort to raise awareness and connect with their patient community who may need help accessing medicines. Engaging with organizations within the rare disease space allows us to bridge the gap to available treatment options that could potentially save one's life.
Why Is My Role At WEP Clinical Important?
My role at WEP Clinical is important because we are the ones representing and providing a voice for patients and their families. Whether we are working with advocacy groups to help access treatment, or providing navigation to the global treatment access space, our main goal is to advocate for these patients and ensure they feel heard and cared for. Not only does WEP Clinical offer that glimpse of hope, but we have successfully worked with various patient communities to source and ship lifesaving medicines. The groups we have worked with and successfully shipped drug to include the Cystic Fibrosis Foundation, Congenital Hyperinsulinism International, Hypersomnia Foundation, and the United Leukodystrophy Foundation. By creating these connections with various patient groups, it offers a platform for engagement and education.
What Is The Best Part Of Working As WEP Clinical's Patient Advocacy Support Specialist?
The most rewarding part of this position is being able to impact the lives of patients and their loved ones. Receiving positive and heart felt feedback from those we have helped showing their appreciation makes me so passionate about the work we do here at WEP Clinical. I am so grateful to be a part of a company that gives me the chance to make meaningful connections and work with individuals from all over the world!
What Do I Hope To Achieve In The Next Year In This Role?
In the next year, I hope to maintain the relationships I have built thus far and continue to establish new contacts by partnering with various organizations. I aim to reach as many patient groups as possible and provide education and awareness of what treatment access routes are available. I hope to continue to learn more about various groups and continue to drive our passion of helping others.