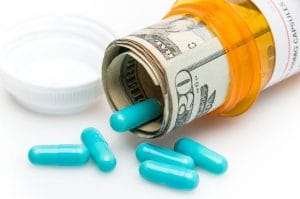 Last month, FDA commissioner, Scott Gottlieb, touched on the agency's shortcomings which have partly contributed to rising drug prices in the US. Speaking at a pharmaceutical event for pharmacy benefit managers in Washington, Gottlieb claimed that many entities are to blame for the skyrocketing drug prices patients are now facing, but that the FDA does have to accept partial responsibility.
According to the agency head, the FDA should have done more to encourage the approval of cost-effective generics for complex brand name products. Generic drugs are exact replicas of innovator products, which can be developed at a fraction of the cost and, therefore, sold to patients at a lower price. The presence of these products on the market drives down the price of expensive brand name drugs as it gives patients another treatment option and increases competition. In theory, this forces brand name drug companies to lower their prices in order to remain competitive.
Although the agency approved a record breaking number of generic drugs last year, with a total of 1027 (which is 214 more than the previous year), the current methods and standards for assessing and approving generics does not foster generic approvals for complex drugs. Healthcare providers prescribe complex drugs to treat a variety of diseases, from common conditions to those that are more serious and/or life-threatening.
Gottlieb claimed that the agency's generic approval pathway worked well in the past, when the majority of drugs were just one molecule. However, drugs have become increasingly more complex, and the agency has failed to update the pathways in order to keep up with these scientific advancements. "We haven't laid out good scientific parameters," Gottlieb told the event attendees.
To address this issue, the FDA has been working on creating new regulatory guidelines for complex generic drugs manufacturers which will hopefully improve the approval pathways for these drug products. To find out more about these efforts, check out WEP Clinical's earlier articles, FDA tries to encourage development of generic versions of complex drugs, and FDA to release new guidance for generic treatments that combine drug and device.