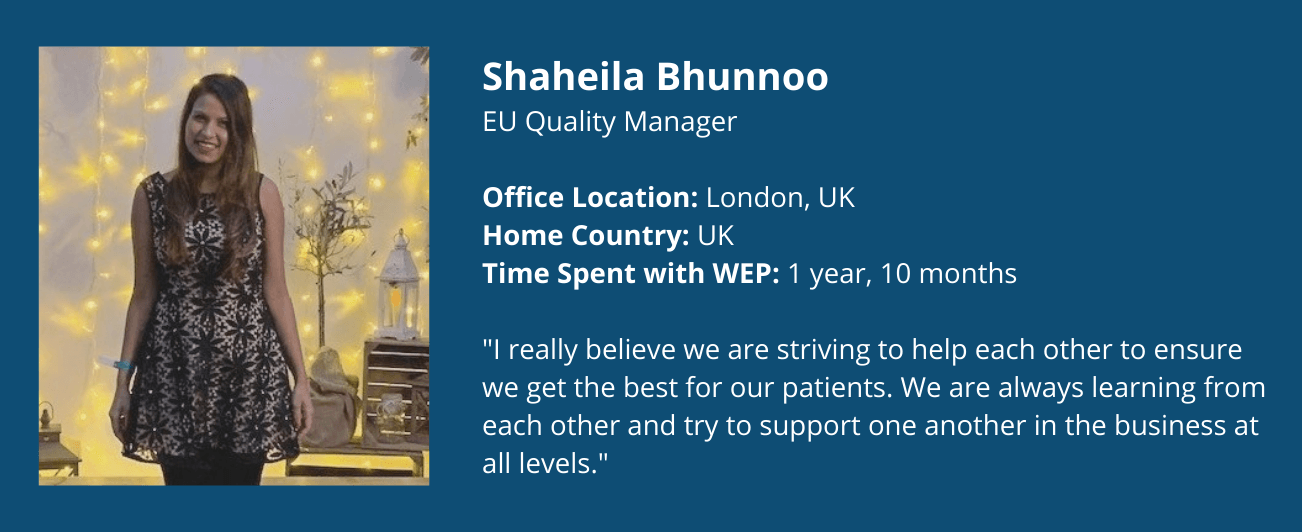 Describe Your Job Role At WEP Clinical
I am currently responsible for ensuring the QMS is maintained and remains effective. This can vary from resolving quality related issues to implementing and driving improvements in the quality processes. Along with my fabulous team, I ensure compliance and patient safety is maintained. I work with other departments to support in problem solving and streamlining processes for efficiency. I am also the lead audit for the WEP UK site completing for internal and external audits.
What Do You Like Best About Working at WEP Clinical?
I love working with the people at WEP Clinical – they are all so warm, welcoming and helpful! I really believe we are striving to help each other to ensure we get the best for our patients. We are always learning from each other and try to support one another in the business at all levels.
Why Is The Work That WEP Clinical Does Important?
I believe the work we do at WEP Clinical tremendously improves the quality of people's lives and gives hope to people in a dark place. Working with a company that is able to provide access to medicines that are not available to that particular individual (for various reasons) is rewarding and saves so many people's lives. I feel the company always goes above and beyond to achieve the highest standards for our customers.
Fun Fact
I enjoy travelling and love taking on an adventure! I have been to the Masai Mara in Kenya, Amazon in Brazil, met bears in Canada and visited the Blue Lagoon in Iceland. I have almost been to a country in every continent, but because of COVID-19 these scuppered my plans! So, when I can safely travel again, I have plans to go to Patagonia in Argentina to meet the penguins 😊.